Welcome and Introduction
Tourism Colab acknowledges and deeply respects the First Peoples and the Traditional Owners of every land in which the course participants live. We pay respects to Elders past, present and emerging, and acknowledge those that are trying to find their way back to country and culture.
---

WELCOME TO HOSTING COMMUNITY CONVERSATIONS IN TOURISM!
We are absolutely delighted that you are joining us!
The ability to Host Community Conversations is an increasingly important skill for tourism. At the Tourism COLAB we hear what people say:
It is really hard to step forward and initiate difficult conversations about uncertainty and change;
Few people feel confident about how to start real, meaningful conversations;
They are frustrated that powerful, established voices ignore diverse, inclusive, alternative and indigenous perspectives;
Most find it hard to know where to begin, much less how to design, implement and achieve genuine engagement with communities and networks.
But this is what we must do to take back control, to build the next tourism economy in ways that are sustainable, resilient and can pivot towards the emerging future. This course springs from the expressed need to curate local responses to global issues, on our terms.
Well hosted, co-created conversations can face down local precarity and global tourism uncertainties. Yet few appreciate what this entails, much less how to consider the nature of change or how to design, implement and achieve genuine engagement with communities and networks.
Drawing on anthropology, neuroscience and the creative arts, we design an experience that challenges you to put aside the traditional ways of thinking about tourism ecosystems and templates for engaging with communities of interest.
About the Course
It's clear that the old tourism toolbox needs an overhaul to address current and future challenges. We know that change lies ahead for tourism. We have choices to make. Industry 4.0, AI, climate change and failures of the capitalist economic model were looming, but the pandemic has forced us to pause and take stock. We can return to the extractive, low waged and precarious tourism economy. Or we can embrace the opportunity to learn new skills, think differently, and reach into the emerging future.
In this course, we introduce participants to the underpinning ideas and pedagogy of intentional design for co-creative conversations, and why it is an alternative to linear path-dependent development.
'Co-creation' is a term increasingly used in tourism but few really understand what it is or what it involves. It's much more than a facilitated conversation with several people in the room. It takes specific skills, a new mindset, and a reframing of how we work and see the emerging future.
Is it time to recharge your skillset?

Is it time to unlock innovation?

Is it time to lean in, so that we can lead out?

Is it time to create our own emerging future?
What we need are active solutions, and that is where the intentional design of conversational experiences comes in.
Aim of The Course
The aim of Hosting Conversations in Tourism is to introduce participants to the power of co-creative thinking and take a deep dive into how to host quality conversations about change in tourism.
Course Objectives
The objectives of this course are to:
Introduce collaboration theory, conversational intelligence, cultural worldview and experience design
Flip thinking on notions of community engagement
Explore and practice tools for creating a community engagement plan.
Our intention is to introduce the threads of the theory of collaboration, its role in weaving impactful community engagement, and explore the lived power of co-creation.
The course materials will be unlocked one week before the course starts. While we are taking care of the last-minute details, you can see what's planned and get a look and feel for the course in this introduction.
In the meantime, if you have any questions, please feel free to email us!
Course Structure
This course is divided into 5 modules:
MODULE 1 – Framing meaningful conversations
This module explores the approaches to overcome uncertainty such as intentional design and need for regenerative approaches to tourism. We introduce the course and take a peek into the toolkit and workbook to help plan your co-creative journey. Topics covered include:
Conversational intelligence
Collaboration theory
Intentional design
MODULE 2 - Hosting & preparing the space
We explore the process and tools of being a good host with a view to understanding the atmospherics of setting, the tools and the conditions needed to implement experiential design. Topics covered include:
Influence of worldview and values
Facilitate voice, build empathy
Ideation and co-design
MODULE 3 – Designing conversations
We take look into the analytical thinking toolbox. We will explore ways to find the right questions to ask and consider who should be in the room. Topics covered include:
Information exploration
Nature of expertise
How to invite participants
MODULE 4 - Facilitating & Enabling Conversations
We take a deep dive into facilitation skills as well as ways to enable face to face and digital conversations. We look too at recording and measuring the impact of engagement. As well as introduce online tools and 'real world' case examples to discuss in the Module 5 Workshop. Topics covered include:
Creating a shared space to engage
Facilitation tips and tricks
Measuring engagement impact
MODULE 5 – Workshop: Weaving a Community Engagement Plan
This interactive workshop allows us to explore how online facilitation works, and its power to bring tourism stakeholders together to identify and co-design actions together. Topics covered include:
Use of an Interactive Change Canvas
Interactive dive into a community engagement plan that responds to a real-world case.
Your commitment
The time you invest in the course will define what you get out of it. Each module comprises:
a weekly zoom webinar (1.5 hours)
supporting reading materials
resources and exercises used to demonstrate key ideas and tools.
We estimate that 2-3 hours per week is all that is required or 10 to 15 hours in total for the course. Of course, you will get out of it what you put into it. So you are welcome to invest more! The webinar will be recorded and be available to view for those that can't make the live session. An additional Q&A session will be made available after Week 2 for those who cannot attend live sessions.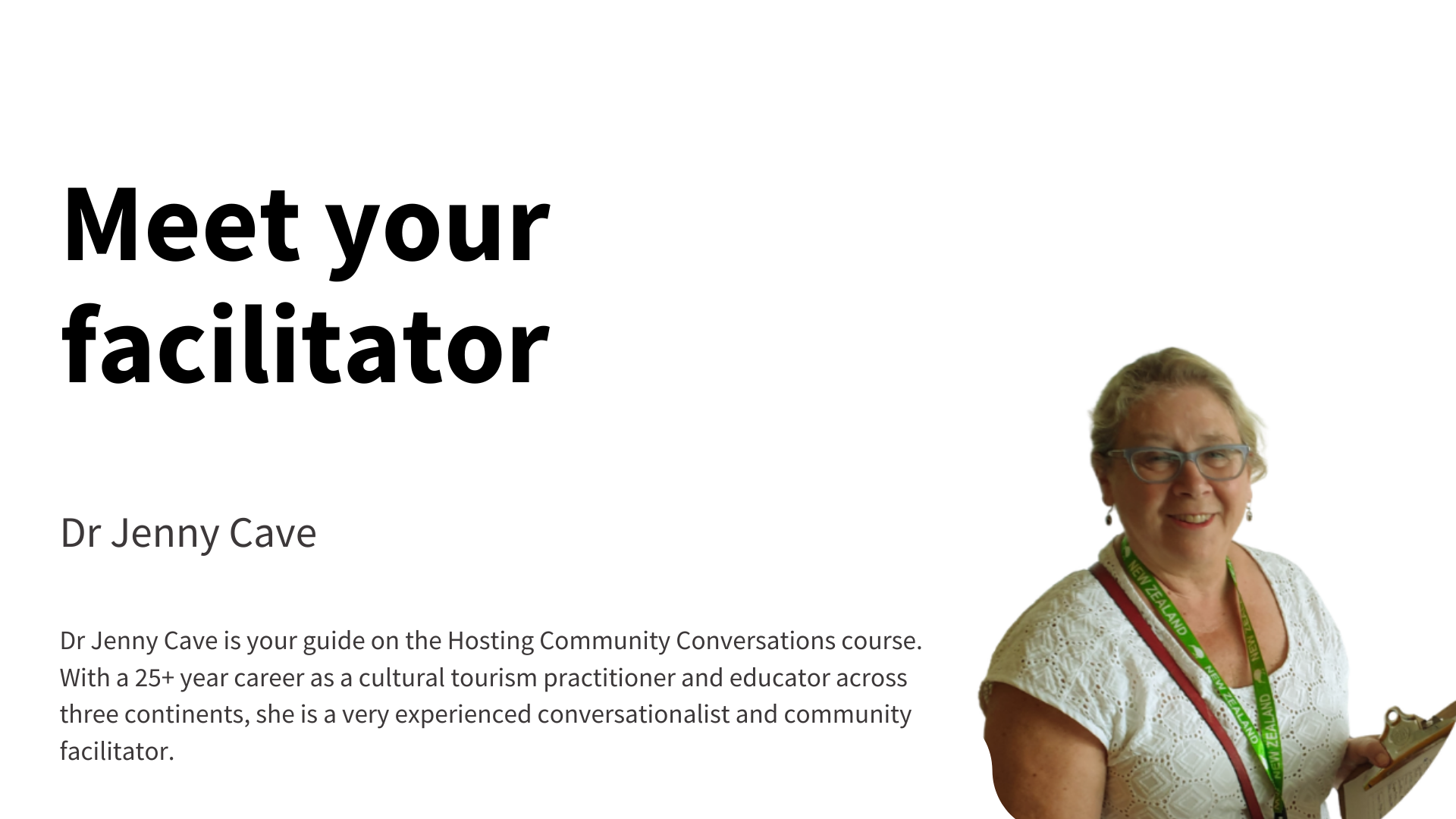 An anthropologist by training, my lifelong work has been in prehistory, heritage, alternative livelihoods and migration. Over time I have worked to create experiences for others where cultures and places interact, such as enterprise incubators, art galleries, science centres, children's museums, and education.
My work has been in volunteer, private and public sectors as curator, senior manager and in governance roles. In my early years taught ballet, weaving and latterly taught and researched tourism in universities.
As a weaver (wool, up-cycled plastics), artist and organic gardener. In my 20's I sat at the feet of Maori elders and the national weaving institute to learn to weave with muka (NZ flax). I am currently growing a crop of New Zealand flax (phormium tenax) and am actively involved in a regenerative agriculture project to grow, harvest and process linen flax in Wales, UK, hoping to re-establish a linen industry using traditional practices.
Complete and Continue